Putting Customers and Employees First
The Power of a Great Payment Experience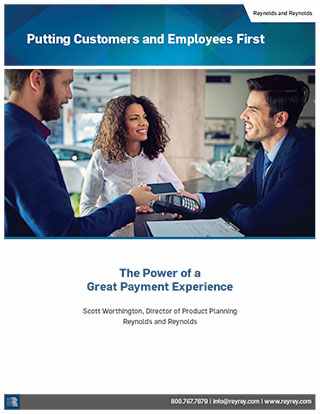 Whitepaper
Have you ever stopped to consider how your employees' experiences directly affect your customers? The fact is, it can have a negative trickle-down effect when there's a lack of process or it's inconvenient. 
The payment experience is a perfect illustration of this. In this whitepaper, you will learn how addressing the following problems will make a huge difference for your customers and employees:
Eliminate the wait. 70 percent of retailers report consumers will wait five minutes or less to pay before abandoning a purchase and leaving the store. Five minutes.
Convenience. Customers want different payment options, whether in the form of tap-to-pay technologies, mobile wallets, online pay via email, or text-to-pay.
Security. Once customers start paying online, they may have questions about the security of payments at your dealership.
It doesn't have to be black or white. You can put both your customers and employees first.
mobile payments online payment customer payment dealership payment electronic payments payment payments payment processing reyay Reypay rey pay