Logo usage
Our logo communicates our position as a market leader. Its usage should protect our brand equity. Use only the logos obtained from Media@reyrey.com. Do not copy it from other documents or communications; those logos may have been altered for use in the other document and/or the reproduction quality may have been compromised.
As a registered trademark, there are legal considerations governing our logo's use. Never use the logo as part of a sentence or in place of text where 'Reynolds and Reynolds' or 'The Reynolds and Reynolds Company' should be used.
---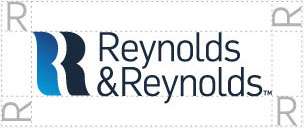 Area of isolation
An "area of isolation" (or margin) must surround the logo on all sides. This space should be a minimum of half the height of the logo (or equal to the height of the word "Reynolds" within the logo). Other graphics, slogans, and taglines must not infringe on this area of isolation.

One-color logo
This logo version is only to be used on one-color documents, either in black or Reynolds blue, or on permanent structures such as buildings or trade show booths. The latter is to preserve the form through any future color iterations.

Reverse logo
When placed on a document where the logo will be surrounded by a dark color, use the reverse logo with white lettering.

Horizontal logo
Originally created for the web, our horizontal logo may be used anywhere vertical space is limited. This logo is considered to be secondary, and should only be used in the event space is limited.
---