Automated recall data on any vehicle, including off-make acquisitions.
Access the most comprehensive collection of recall data from all OEMs and the National Highway Traffic Safety Administration (NHTSA) for your entire inventory, and vehicles in service, straight from ERA-IGNITE.
Recall Management, powered by Recall Masters, provides extensive recall data and automatically alerts your team to open recalls on any vehicle at your dealership, in sales or service, including off-make vehicles.
Benefits of Recall Management
Populate recall reports automatically for any VIN entered into ERA-IGNITE.
Access unique recall fields including stop sale flags, don't drive flags, risk assessments, and parts availability flags.
Connect with customers and notify them of any open recalls and recommended services for their vehicle.
Monitor your entire new and used inventory automatically to ensure it is recall free.
Remain compliant with your OEM and federal laws to avoid fines.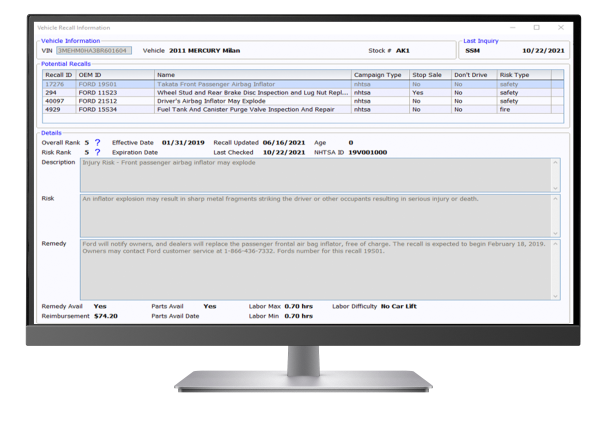 Contact us
What's next
After clicking submit, a specialist will contact you shortly via phone or email to discuss your needs. We value your privacy and will not share your information with other third-party providers.