Accounting Electronic Communications
Digitize accounting documents and streamline your A/R processes.
Accounting Electronic Communications allows you to send business office documents electronically, including A/R statements, cash receipts, EFT remittance, and direct deposit advices. From within your system, you are able to send documents via customized email templates with your branding. By sending these documents electronically, you can establish an electronic audit trail to ensure compliance and better track successful email delivery on important documents.
Additionally, when paired with ReyPAY®, your customers can pay their invoices electronically, directly from their email with a link to pay. With Accounting Electronic Communications, you can streamline accounts receivable, receive payments faster, and save time and money by reducing or eliminating the need to print your accounting documents.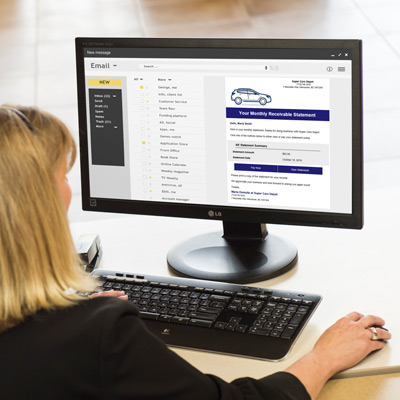 Benefits of Accounting Electronic Communications
Save time and money spent on printing, addressing, and mailing, or handing out physical documents.
Track important emails to ensure successful delivery and re-send if needed.
Maintain compliance with an electronic audit trail.
COLD a copy for dealership records with Integrated Document Management.
Embed a link for payment with ReyPAY®.
Contact us
What's next
After clicking submit, a specialist will contact you shortly via phone or email to discuss your needs. We value your privacy and will not share your information with other third-party providers.