Just Google It... Are You Sure?
Outside experts bring value that a search engine can't.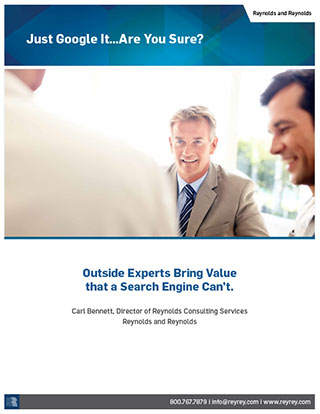 Whitepaper
Are you devaluing expert opinions?
Consider the many years of experience and learning it took for you to reach the level of industry knowledge you have today. The same level of commitment is needed to address the increasingly complex challenges facing your dealership. Don't fall prey to the 'just Google it' philosophy. Make sure you're looking for industry experts willing to spend time in your dealership with your current process and work with you towards a solution.
In this whitepaper, you'll learn:
How dealership expertise brings considerable value to the table, even in the Digital Information Age.
Which challenges in your dealership can be overcome with expert dealership consultations.
Real examples of how dealership consulting can provide lasting change. 
consulting whitepaper Just Google It whitepaper reynolds and reynolds whitepapers reynolds whitepapers