Is Your Dealership a Model of Profitability or a Leaky Vessel?
How to plug the hidden revenue holes that threaten your success.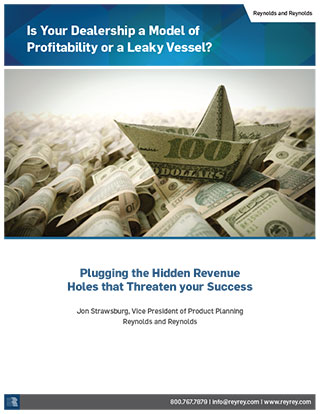 Whitepaper
When it comes to maintaining dealership profitability, it's easy to get tunnel vision without realizing it.
Savvy dealers should discover (or even create) as many new profit centers in the dealership as possible. But, driving increased revenue will never be enough if your dealership resembles a leaky vessel sinking in slow motion.
In this whitepaper, you'll examine three types of leaks that commonly appear in even the most successful dealerships:
Process Leaks: Every gap in your seemingly tried-and-true processes is needlessly costing you money regularly.
Equipment Leaks: Various equipment leaks reveal dealers have struggled to move away from analog processes in an increasingly digital age.
People Leaks: Your employees are your greatest assets, but they can also prove to be among your greatest liabilities.
Reynolds AddOnAuto DigiSales Reypay Reverse Risk IDM naked lime marketing